Xiaohong Chen's Home Page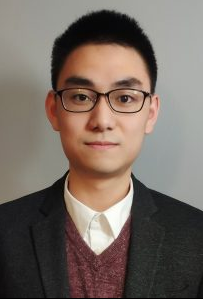 My Name
Simple Biography
2016 to present. PhD student. University of Illinois at Urbana-Champaign, USA
2015 to 2016. Research assistant. Singapore University of Technology and Design, Singapore
2014 to 2015. Teaching assistant. Birmingham City University, UK
2010 to 2014. Undergraduate student. Peking University, China
Research Interests
Logic
Formal semantics of programming languages
Automated theorem proving, proof generation, and proof checking
Publications
★ Matching logic explained, Logical and Algebraic Methods in Programming, 2021.
★ Towards a unified proof framework for automated fixpoint reasoning using matching logic, OOPSLA, 2020.
Initial algebra semantics in matching logic, Technical Report, 2020.
★ A general approach to define binders using matching logic, Proceedings of the 25th ACM SIGPLAN International Conference on Functional Programming (ICFP'20)
Connecting constrained constructor patterns and matching logic (Best Paper Award), Proceedings of the 13th international workshop on rewriting logic and its applications (WRLA'20)
Applicative matching logic: Semantics of K, Technical Report, 2019.
★ Matching mu-logic, Proceedings of the 34th Annual ACM/IEEE Symposium on Logic in Computer Science (LICS'19)
A language-independent program verification framework, Proceedings of the 8th International Symposium On Leveraging Applications of Formal Methods, Verification and Validation (ISoLA'18)
A language-independent approach to smart contract verification, Proceedings of the 8th International Symposium On Leveraging Applications of Formal Methods, Verification and Validation (ISoLA'18)
Improving probability estimation through active probabilistic model learning, Proceedings of the 19th International Conference on Formal Engineering Methods (ICFEM'17)
Component-based modelling for scalable smart city systems interoperability: A case study on integrating energy demand response systems, Sensors 2016, 16(11), 1810
Towards concolic testing for hybrid systems, Proceedings of the 21st International Symposium on Formal Methods (FM'16)
Model-driven design of object and component systems, Chapter of The First International School on Engineering Trustworthy Software Systems
A framework for off-line conformance testing of timed connectors, Proceedings of the 9th International Symposium on Theoretical Aspects of Software Engineering (TASE'15)
A hybrid model of connectors in cyber-physical systems, Proceedings of the 16th International Conference on Formal Engineering Methods (ICFEM'14)
Selected Awards
Mavis Future Faculty Fellow (2020)
Yunni & Maxine Pao Memorial Fellowship (2018-2019)
China National Scholarship (2012-2013)
Activities
ICFP 2020 Tutorial on the K framework (see video recording on Youtube: link)
The 13th International Workshop on Rewriting Logic and Its Applications (WRLA'20), online
The 8th International Symposium On Leveraging Applications of Formal Methods, Verification and Validation (ISoLA'18), Cyprus
Volunteered the 32nd IEEE/ACM International Conference on Automated Software Engineering (ASE'17), Illinois, USA
The 21st International Symposium on Formal Methods (FM'16), Cyprus
Marktoberdorf Summer School 2015, Marktoberdorf, Germany
The 9th Theoretical Aspects of Software Engineering Conference (TASE'15), Nanjing, China
Quotes
What can be said at all can be said clearly, and what we cannot talk about we must pass over in silence. — Ludwig Wittgenstein.
Young man, in mathematics you don't understand things. You just get used to them. — John von Neumann.
What the ancients called a clever fighter is one who not only wins, but excels in winning with ease. — Sun Tzu, The Art of War.
Thus, if you do not accumulate little steps, you will not have the means to journey a thousand li, and if you do not pile up small streams, you will have no way to fill a river or a sea. — Xunzi, Encouraging Learning.
Fun
Links